Matthew Guy's leadership 'damaged' by Mitch Catlin donation scandal, MPs say
August 4, 2022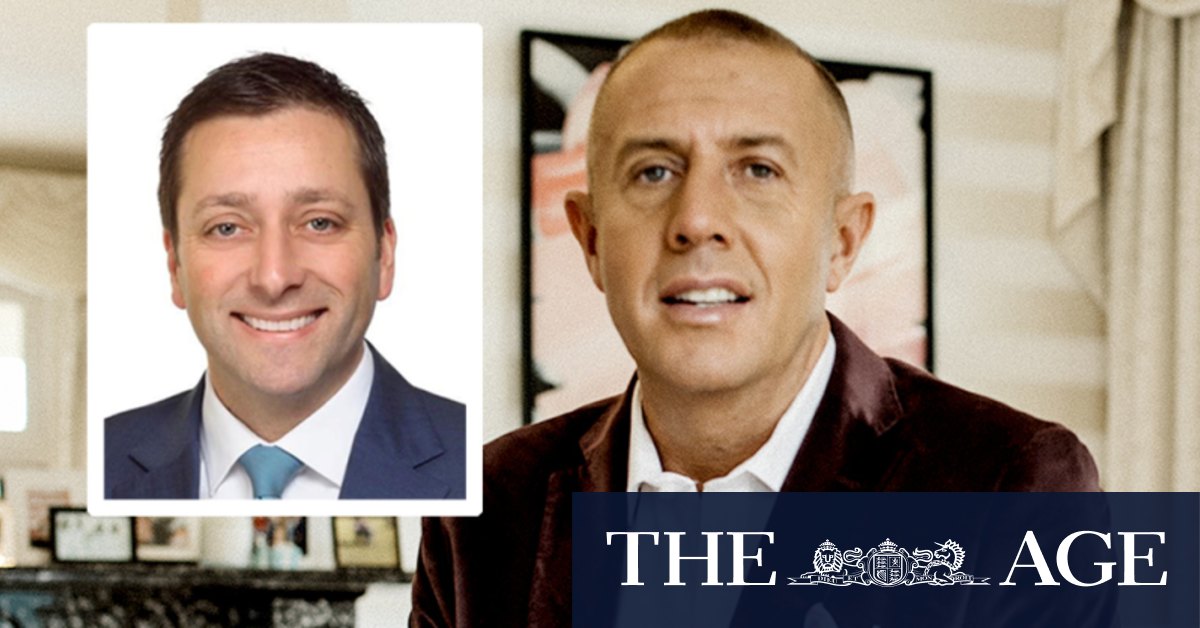 "Hey MG. Attached is the proposed agreement between [the donor] and Catchy Media Marketing and Management," Catlin wrote to Guy's private Hotmail address. "It's as per the original email agreement between you and me. Can I leave you to forward onto him?"
Loading
Guy said he did not forward the email to the donor, that no payment was made, and no contract was signed. He said Catlin stood down to "maintain the perception of integrity".
"Mitch stood down because we want to maintain the perceptions are right, that there is nothing that could be incorrect, even though nothing was signed, nothing agreed," Guy said.
"[It's] totally different from the government who rorted and stole and thieved. I will not be lectured to by some corrupt government."
The opposition leader refused to answer detailed questions about the integrity crisis engulfing his party less than four months from the state election, saying he would not comment because the government had referred the matters to integrity agencies and Victoria Police.
Several members of shadow cabinet told The Age they were unconvinced by Guy's reassurances that the scandal was finished.
"We are all waiting to see what comes next," one backbench MP said, speaking to The Age on the condition of anonymity.
Federal MPs from Victoria met on Wednesday evening for a pre-arranged dinner at which Catlin's resignation and the resulting political damage were discussed, according to several sources in attendance.
One MP said Guy would likely remain in his role, but federal Liberals shared the concerns of their state colleagues that more issues might arise before the election.
The Independent Broad-based Anti-corruption Commission (IBAC) on Thursday said it had received a complaint from the government.
"Every complaint IBAC receives is assessed in accordance with the IBAC Act to determine whether we will investigate it, refer it to another organisation for investigation, or dismiss it," an IBAC spokesman said.
"IBAC will be making no further comment on this matter at this stage."
Premier Daniel Andrews refused to be drawn on his government's complaints to the integrity agencies, but senior government minister Danny Pearson said Guy needed to "answer fundamental questions about what's occurring in his office".
He called on Catlin to release an audited copy of Catchy Media Marketing and Management's financial statements to make public what, if any, payments he was receiving.
Loading
"Since 2014 when Matthew Guy first became leader of the opposition, he's portrayed himself to be the prince of probity, yet he cannot or will not answer fundamental questions about what's occurring in his office," Pearson said.
Meanwhile, long-standing Liberal campaigner Simon Frost had been seen as a frontrunner to replace Catlin. However, the ally of former federal treasurer Josh Frydenberg will not become Guy's new chief of staff and will likely take up a role in the private sector.
The Morning Edition newsletter is our guide to the day's most important and interesting stories, analysis and insights. Sign up here.